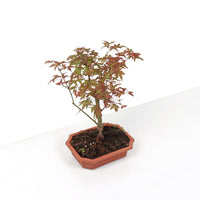 Bonsai Maple Leaf Plant in Nursery Grow Pot
Bonsai Small Maple Leaf Plant in Nursery Grow Pot

Common Names
Japanese maple
Synonyms
Acer palmatum SHISHIGASHIRA- Small leaf maple
How to Grow and Care
They require bright direct sunlight to partial shade and require well-drained soil (free-draining gritty mix). Overly bright sunlight can char the leaves and cause them to drop off. They thrive in gritty, well-draining soils and pots with drainage holes.

Placement: balcony, window side, outdoor area
Plants in the home interior should not have consistently wet feet. Make sure the pot drains well and don't leave a saucer with water sitting under the container or saucer. Keep Soil moist at all time but not soggy.

For a majority of bonsai enthusiasts, the Japanese Maple bonsai tree is extremely popular. It can really liven up your house, office or balcony! Absolutely unique and classy!
** Protect from heavy rains and standing water to prevent rot.
PS: New twigs and leaf stems are also red and will turn to green as they mature. ⚠️Maple leaves undergo a natural life cycle where they may not remain red at all times. It is typical for maple leaves to transition from red to green and eventually back to red again. However, you can easily remove the green or brown leaves by hand when necessary. The new red leaves tend to grow rapidly, contributing to the tree's vibrant appearance.

** Each plant is unique, the plant you receive may not be the same colour or shape as the picture. The colour of the plants will fade and their leaves may fall during transit which is normal. However, they will recover in a sunny, well-ventilated environment paired with good care. 
Size of Planter: height 5cm x diameter 14cm

Height including Pot: 35cm approximately