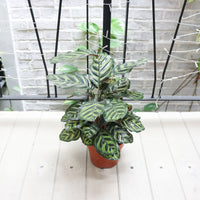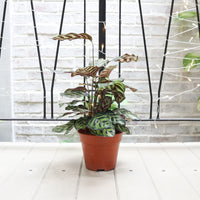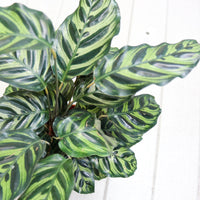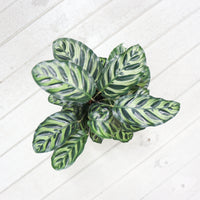 Calathea Makoyana in Nursery Grow Pot
 Calathea Makoyana in Nursery Grow Pot


Common Names
Prayer Plant, Peacock Plant

Synonyms
-

How to Grow and Care
Calathea  is a clump-forming evergreen perennial with intricately patterned leaves. Originating from Brazil, It typically grows up to 30cm high and is often kept as a house plant for its attractive foliage. It is also known commonly by the names prayer plant, rabbit tracks and rabbit's foot amongst others. These names refer directly to the leaf patterning, leaves are oval in shape, coloured green-grey, with darker green to brown splashes across the surface. This natural variant originates from tropical Brazil. Delicate white flowers with small amounts of purple shading on the throat are produced in the summer. These are very short-lived, usually opening and closing within a day. This plant has earnt a Royal Horticultural Society Award of Garden Merit.
Prayer Plant can't be left in direct sunlight, it should be placed in moderate to low light to avoid the leaves becoming dulled and less vibrant.
The soil needs to be kept moist at all times, it is wise to place your plant somewhere where it can be watered and misted with ease. The growing medium should consist of a light, porous potting mix that retains water but drains well. 
The plant should also be fed regularly with liquid fertilizer throughout the growing season.


Suitable for Indoors.
Size of Planter: Height 13cm x Diameter 15.5cm

Height of Plant including Pot: 55cm approximately