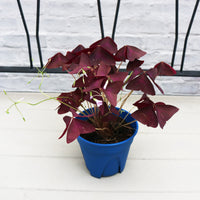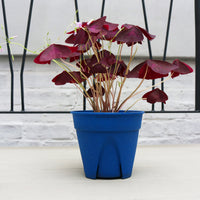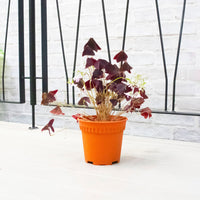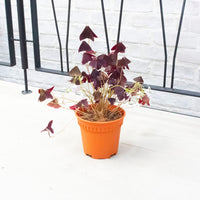 Oxalis Triangularis (Purple Shamrock) in Nursery Grow Pot
Oxalis Triangularis (Purple Shamrock)

Common Names
Purple Shamrock, False Shamrock, Love Plant
Synonyms
-

Details
With its stunning and eye-catching purple foliage, Oxalis triangularis or Purple Shamrock is sure to be the star of the show wherever placed indoors. Provided the proper indoor growing conditions, it will provide you with robust growth and color throughout the seasons.
Arrives in a nursery grow pot with drainage hole
Size of Pot: Height 13cm x Diameter 14cm
Height of Plant with Planter: 28cm approximately
Plant Care
Bright indirect to low light
Water thoroughly when top 25% of soil is dry
. Soil should be kept moist but not soggy. 
Difficulty:   Easy and low-maintenance
BENEFITS:
This plant is an edible perennial plant and has purple beautiful leaves. Therefore this plant is also used as an indoor decorative plant. The leaves of this plant are sour therefore are appreciated for its great exotic taste.
The plant has intensely purple leaves with a monomeric anthocyanin content of 195 mg/100 g on malvidin-3, 5-diglucoside basis, which makes them a potential source for natural colorants. Some of the Oxalis triangularis health benefits are as follows.
The leaves of this plant have anthocyanins abundant therefore possess antimicrobial property. The extract showed broad-spectrum antibacterial activity against all bacteria tested including Staphylococcus aureus, Bacillus cereus, Escherichia coli, and Salmonella typhimurium.
The leave of Oxalis triangularis contains acetylated anthocyanins called malvidin. These anthocyanins are in huge demand in the food colorant markets. As it gives a great alternative to artificial color and also very potent antioxidants.