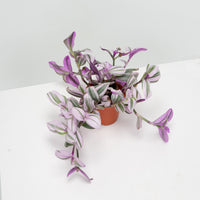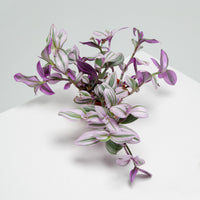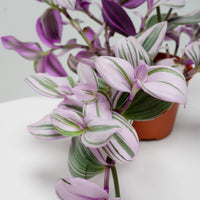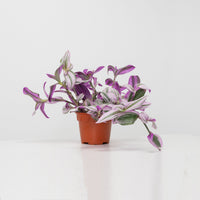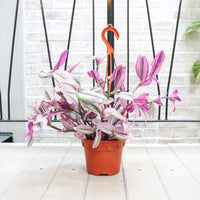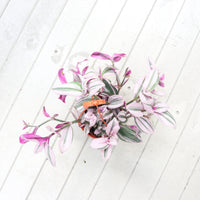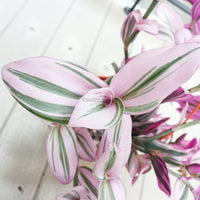 Tradescantia Nanouk in Nursery Grow Pot
Tradescantia Nanouk aka silver inch plant 30cm in Nursery Grow Pot


Common Names
Wandering Jew, Inch Plant
Synonyms
-

How to Grow and Care
Light: 
All Tradescantias including the Wandering Jew Plants need plenty of light to retain the variegated colours on the leaves, if things are too dim these will fade.
On the other side of the coin if too much light is provided leaf scorching is the end result, fortunately however the problem of "too much light" is basically only caused by excessively exposed locations during midsummer. This is quite hard to provide indoors anyway, so you will only really risk this if you Summer your plants outdoors.
** t's important they're placed in plenty of light but protected from very strong sun.
Watering: 
As you would expect from any hard to kill houseplants, the Wandering Jew will cope with droughts and a little water logging from time to time.
Try to avoid this careless watering approach where possible though as a good looking plant needs to be watered correctly. The instruction here is simple, water your Tradescantia regularly and freely during the warmer seasons to try and keep the soil moist for much of the time.
The leaves are almost succulent like and therefore humidity is something you don't have to worry about a great deal. It will be worth misting the plant however if you start to notice the leaves becoming shriveled or brown leaf tips start to appear.
** Protect from heavy rains and standing water to prevent rot.
Suitable for Indoor Windowsills or Sheltered Outdoor
Size of Planter: Height 11.5cm x Diameter 14cm
Height of Plant including Planter: 30cm approximately