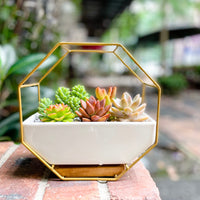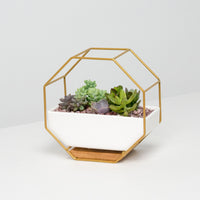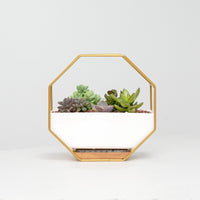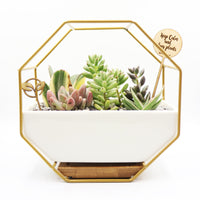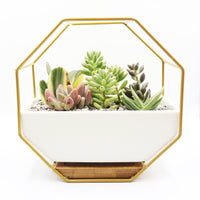 Pulpy Wall-Geo Planter Gold
Pulpy Wall-Geo Planter

all succulents are individually and specially selected and arranged by our artisan/ designer. 
Octagonal Geometric Planter with Bamboo Tray and Metal Frame where you can either Hang it on the Wall or place it on any flat surfaces.
Available in Gold or Black Frame Only

How to Grow and Care
Succulents need very little attention or care. They require plenty of sun and require well well-drained soil (free-draining gritty mix). Never overwater, water only once a week.
Size of Ceramic Planter: Width 17.5cm x Height 8.5cm x Depth 5.8cm
Size of Frame: Width 17.7cm x Depth 8.5cm x Height 17.7cm

*wish topper is not included.  
* DELIVERY WITHIN WILAYAH PERSEKUTUAN AND SELANGOR ONLY.